2019-10-22en
The biochemist and molecular biologist of the University of Freiburg has been honored by the Faculty of Medicine in Bochum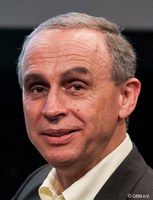 Prof. Dr. Dr. h.c. Nikolaus Pfanner
The Faculty of Medicine of the Ruhr University Bochum has conferred an honorary doctorate to Professor Nikolaus Pfanner for his outstanding scientific work in the area of cellular biochemistry. The honorary doctorate was awarded at a ceremony on the occasion of the 50th anniversary of the faculty. The faculty honors the pioneering contributions of Nikolaus Pfanner to our current understanding of mitochondria with major implications for patients and physicians in the area of mitochondrial diseases.
Mitochondria, the cellular powerhouses, are essential for the energetics and metabolism of cells. Defects of mitochondria can lead to severe diseases of the nervous system, the heart and the kidney. "Teamwork is crucial in the life sciences. The honorary doctorate is not only a great honor for me, but also for my entire team of excellent coworkers, who study the biogenesis and function of the cellular powerhouses with great enthusiasm," Nikolaus Pfanner emphasizes.  
Nikolaus Pfanner is Director at the Institute of Biochemistry and Molecular Biology of the Faculty of Medicine at the University of Freiburg. He is a member of the CIBSS Centre for Integrative Biological Signalling Studies. He has received numerous awards for his research, including the Gottfried Wilhelm Leibniz Prize, the Max Planck Research Award, the Research Award of the State of Baden-Württemberg, the Otto Warburg Medal and the Stein and Moore Award (USA).
Homepage: www.mitochondria.de
Contact:
Professor Nikolaus Pfanner
Institute of Biochemistry and Molecular Biology
Faculty of Medicine
University of Freiburg
Phone: +49 761 203 5223
Email: Nikolaus.Pfanner@biochemie.uni-freiburg.de