Nora Vögtle receives Helmut-Holzer award
The biochemist receives the award from the Scientific Society of Freiburg for her work on mitochondrial quality control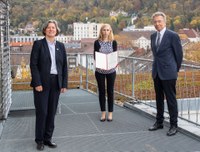 Presentation of the certificate by Rector Prof. Dr. Krieglstein
The Scientific Society of Freiburg has awarded the biochemist Dr. Nora Vögtle the Helmut-Holzer prize for her outstanding scientific contributions in the field of biochemical research. Dr. Vögtle investigates molecular mechanisms in protein quality control, that are essential for functional mitochondria and that result upon dysfunction in severe neurological diseases.
Mitochondria are known as the powerhouses of the cell and they are involved in several metabolic pathways. For their diverse functions mitochondria contain more than 1000 different proteins. The majority of these proteins are synthesized outside of the organelle and then imported into the organelle. Dr. Vögtle could show that the maturation of the proteins after their import is a complex process and that it is required to obtain functional and stable proteins. Defects in this protein quality control system result in neurodegenerative diseases. Recently, Dr. Vögtle identified a novel protective pathway, in which the cell is sensing mitochondrial defects and triggers a protective program to allow cellular survival.
Dr. Vögtle studied Molecular Medicine at the University of Freiburg and leads an international research group funded by the Emmy-Noether program of the DFG. 
The "Helmut-Holzer award" is named after Prof. Dr. Helmut Holzer (1921-1997), who was the chairman of the Scientific Society of Freiburg for 25 years. Prof. Holzer was also director of the Institute of Biochemistry and Molecular Biology, at which Dr. Vögtle is working today.
The award certificate was presented to Dr. Vögtle by the rector of the University of Freiburg, Prof. Dr. Kerstin Krieglstein, and Prof. Dr. Volz, the chairman of the Scientific Society of Freiburg.
Contacts
Dr. Nora Vögtle, Institut für Biochemie und Molekularbiologie,
Stefan-Meier-Straße 17, D-79104 Freiburg
Tel.+49-761-2035270
Email: nora.voegtle@biochemie.uni-freiburg.de
Prof. Dr. Karl-Reinhard Volz
Chairman Scientific Society of Freiburg
Haus "Zur Lieben Hand", Löwenstr. 16, 79098 Freiburg
Tel.: +49 (761) - 203 5190
Email: wissges@uni-freiburg.de